Membership
We are excited to present an excellent list of speakers this year in Orthodontics, Endodontics and Periodontics.
The 2023 years membership will include the following: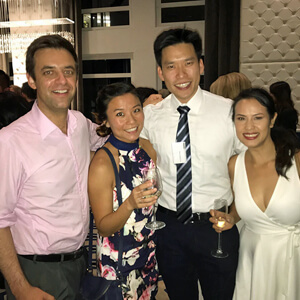 A total of 5 meetings including 3 academic meetings and 2 of our famous end of year (2022 and 2023) Christmas parties.
3 academic meetings are presented by leading specialists speaking on a broad range of contemporary engaging dental topics. Also including 10-course Chinese banquet and wine. An accumulation of 6 CPD points will be achieved in total.
The end of year social event is a terrific wind down before Christmas and it is a great opportunity for you to network with dental professionals and colleagues and win heaps of lucky door prizes!
Please note: EARLY BIRD Registration closes after the 2022 Xmas Party. Please make sure you register your EARLY BIRD membership now to take advantage of great savings.
Annual Fees
Membership
Early Bird Membership: $550 (Early Bird rate closes after the 2022 Xmas Party)
Standard Membership: $600
Student Membership: $200
Non Members
$120 per Academic Meeting
$150 per Christmas Party
Student Non Members
$60 per Academic Meeting
$90 per Christmas Party
Click here to see our upcoming events

Easy Ways to Pay
You can make your payment easily with PayPal using the Pay Now button below by Direct Debit to Australian Asian Association of Dentists.
Payment through PayPal
PAY NOW
You also can use your credit card with our EFTPOS Machine at the Next AAAD Meeting.
DIRECT DEBIT:
BSB: 062-279 ACC: 1009 0945
Please write your name on the Payee Description and also email aaadentist@gmail.com your full name and receipt number.
Join Today!
Throughout the year we feature an array of informative and fun events. For more information about specific happenings, please contact us.
Feel free to browse our website for information and upcoming events. If you have any questions about membership or to become one of our corporate sponsors, please do not hesitate to contact us.
---
Membership | Australian Asian Association of Dentists